Useful post courtesy of Eduard Ezeanu from his blog
People Skills Decoded
Do you want to
overcome shyness
or anxiety and
be confident
and charismatic? Do you want to
make effortless conversation
with anyone, make friends easily and fully enjoy life?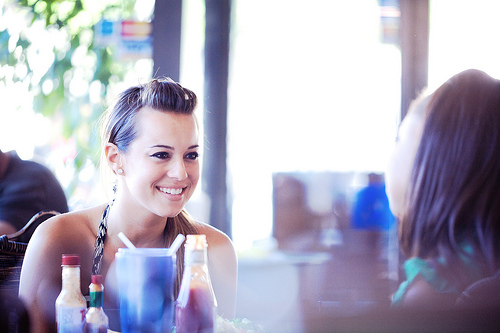 If you tend to be shy, quiet or anxious in social situations, learning how to be more social is one of the most important things you can do. Put into application the right know-how on how to be more social and you'll see outstanding transformations. You'll find it easier to make friends, get noticed and have fun in social settings.
As a social confidence coach, most of what I do is help others discover how to be more social and implement this understanding effectively. I want to share with you some of the key ideas that have helped these persons without fail. I discuss them in more detail and also provide other powerful advice in
this free presentation
.
Approach Being More Social Progressively
The common mistake that people who want to be more sociable make is that they try to achieve this all of a sudden. I know you may crave to be the person who talks with everybody at a party, tells captivating stories and mesmerizes others. And you can become that person. But not overnight.
It's essential to approach this as a gradual process and take it one day at a time.
For example, you may start by simply getting out of the house more; or asking more questions during conversation, and once this gets easier, move on to something more challenging. Focus on making progress, not on radically changing yourself in an instant, and you'll get very far. Anybody who wants to teach you how to be more social and promises a total transformation in a flash is just trying to swindle you.
Learn the Rules and Play the Game
I big issue for many people who want to find out how to be more social is that they don't have a minimal understanding of the basic social etiquette.
For example, they often don't know if it's OK to ask a work colleague a personal question (the answer is:
yes
) or when is it proper to do so (the answer is: after you've gotten to know each other a bit at a professional level first). Now, I typically don't give a lot of heed to etiquette. But there are some fundamental norms for social interaction that it's good to understand. And once you understand them, you can feel more confident in social situations and be more outgoing.
So I encourage you to ask yourself: what do I feel I need to understand better about social interactions. Then seek this understanding you require.
Sometimes just asking some questions to a few more socially savvy acquaintances is enough. Other times you may want to actually pick up a book or do a course on social dynamics and the
art of conversation
.
One small warning here: don't overdo it. The point is to learn the basic etiquette and try to comply with it most of the time. Don't try to become the perfect conversationalist who always follows the rules. That's impossible and frankly, it would make you quite boring.
Focus Externally, Not Internally During Social Interactions
One thing I often notice at people who are reserved is that they're regularly inside their head while interacting with others. They scrutinize their behavior, try to find ways impress, or criticize themselves in their inner dialog. It's no surprise that many times they seem to not be paying real attention to the interaction.
If this sounds familiar, then a crucial step forward for you is to focus more externally during social interactions. Pay attention to the other person, what they're saying, and sometimes observe the context you're in. But avoid being in your head. This switch in your focus will achieve two things: it will lower your nervousness and it will allow you to have better reactions during the interaction. In time, this will make you more confident to initiate interactions and express yourself.
Work On Your Self-Image
Whenever I coach a person and we explore their desire to be more social, we reliably discover that there is a deeper issue that doesn't permit them to be as sociable as they would like to be. Many times they have some sort of an
inferiority complex
, self-image issues or a lack of self-esteem. Having a hard time interacting with others is just a symptom, but it is not the core problem.
In this case, it's essential to work on the deeper issue in order to get rid of the symptom. You need to change your thinking patterns about yourself, and weed out those limiting beliefs you have about you. Change your thinking, and you change your entire social life.
You now have the basic guidelines on how to be more social. In order to see real results, it's important to capably put hem into practice. Ultimately, it is proper action that separates the winners from the losers; the people who revamp their social life from the people who just complain and dream of a better day.
Image courtesy of Mark Sebastian